Diversity Scholarship Event 2017
History of the Scholarship
How It All Started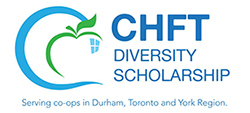 In 2004, the Co-operative Housing Federation of Toronto (CHFT) launched the CHFT Diversity Scholarship Program.
The program is for people living in CHFT member housing co-ops. An important element of the scholarship is the strong commitment to diversity shown by the applicants in their communities. Students are awarded their scholarships largely based on their community involvement in their schools, co-op communities and in a variety of community based organizations. To date people from over 80 co-ops have won scholarships.
In partnership with CHF Canada, scholarships are awarded in the Golden Horseshoe Co-operative Housing Federation, the Co-operative Housing Federation of British Columbia, Central Ontario Co-operative Housing Federation and in Manitoba, Southwestern Ontario, Manitoba and Nova Scotia.
The following colleges and universities provide additional funding of up to $3,000.
George Brown College
Seneca College
Humber College
University of Toronto
OCAD University
Western University
Ryerson University
York University
To date, over one million dollars has been awarded to over 260 CHFT Diversity Scholarship recipients who have attended 22 colleges and universities. The CHFT Charitable Fund enables us to fund raise through our annual scholarship event which attracts over 500 people.
The scholarship is made possible by donations from over 60 companies, organizations and individuals. The 2016 CHFT Diversity Scholarship Event was held on Wednesday, June 29, at 7:00 p.m. at the St. Lawrence Centre for the Arts. The 2017 scholarship application will be available in the Fall of 2016.
Now Available!
Our Sponsors