Welcome to the Co-operative Housing Federation of Toronto
Serving Co-ops in Durham, Toronto and York Region
Our Vision
Our vision of who we are is also shaped by our commitment to give service of the best possible quality at a fair price.
We define our commitment to serve through the aims that Canadian housing co-operatives hold in common.

Important Notice to our Members 
The Co-operative Housing Federation (CHFT) will be taking some extraordinary measures.
These actions are similar to what other organizations are doing to help protect the public from the spread of the COVID 19.
Our office will be closed to the public until further notice.
Helpful Links – COVID-19:
Click here to view our recent postings
What is CHFT?
In 1974, a group of non-profit housing co-operatives set up a small organization to promote the development of new co-ops and to provide the education and assistance needed by the growing co-operative housing sector.
Today, the Co-operative Housing Federation of Toronto (CHFT) is a member-supported organization representing more than 45,000 people living in more than 160 non-profit housing co-operatives located in Toronto and York Region.
Click here to learn more about CHFT.
What are the Co-op Housing Land Trusts?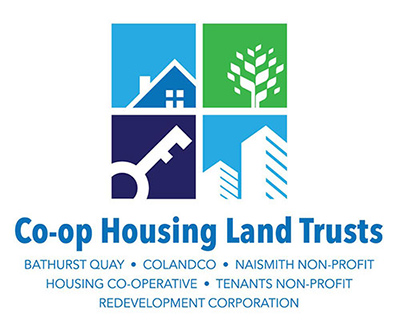 Diversity Scholarship Awards
The Co-operative Housing Federation of Toronto (CHFT) introduced our scholarship in 2004. People qualify because of their work in the community and commitment to promoting diversity.
Over $1.7 million has been awarded to date with over 330 students having won the award.
Students from over 104 co-ops have won scholarships since its inception. In 2018 we awarded 27 scholarships.
Listen to what a few of our scholarship award winners have to say about winning this opportunity and what it means to them.
The period for submitting Diversity Scholarship Applications is now closed.

Scholarship Testimonials
CHFT began safeguarding affordable housing units through land trusts since the early 1980's.
The purpose of the land trusts is to ensure that the assets of land trusts co-ops could not be sold off to anyone.
With a varying development programs both provincially and municipally, CHFT was able to acquire different sites across the Greater Toronto Area and surrounding areas including Durham and Peel Regions.
The Co-op Housing Land Trusts represents 10,000 members that live in 32 co-ops throughout southern Ontario.
To learn more about the Co-op Housing Land Trusts, click here.
Upcoming Events
Please Note* Until further notice, all CHFT events are cancelled!