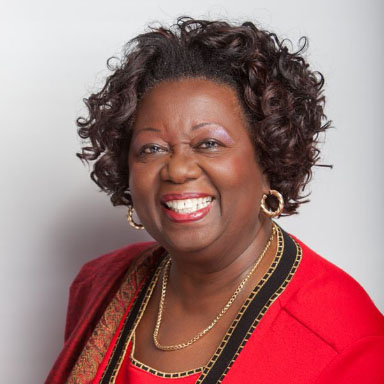 A message from Hon. Dr. Jean Augustine
It was 25 years ago as the then Parliamentary Secretary to Prime Minister Jean Chretien that I put forward to the House of Commons the following Motion: "That this House take note of the important contribution of Black Canadians to the settlement, growth and development of Canada, the diversity of the Black community in Canada and its importance to the history of this country, and recognize February as Black History Month".
I got unanimous consent, and thus February became officially Black History Month in Canada.
Today Black History Month is marked in every segment of our society as a time to acknowledge (indeed celebrate) the presence, the contribution and the heritage of peoples of African descent in Canada.
COVID-19, Black Lives Matter, systemic discrimination and anti-black racism all spotlighted in this challenging time the need to focus on diversity and inclusion. This pandemic with reflective time has shown us the gaps in our systems which cry out for the need to do better.
The issue of housing and the need for shelter have been amplified. We know what needs to be done–let's have the will to solve and close those glaring gaps.
Black History Month, like the Sankofa bird, signals that in looking back we bring the knowledge and awareness of the past forward, examine them in the present and proceed with solutions to make the future better.
Let's celebrate Black History Month 2021, not only in February but throughout the year.
Stay safe all.
Hon. Dr. Jean Augustine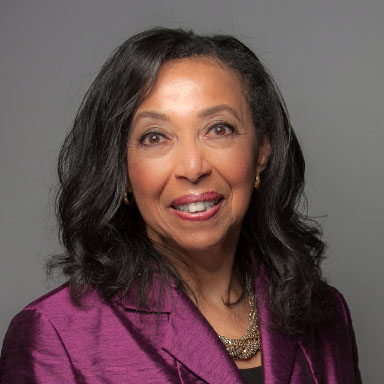 Black History Month from 1926 to the present
By Rosemary Sadlier, Order of Ontario
The Proponent of the Official Proclamations and the National Declaration of February as Black History Month
The celebration of Black History Month has long roots. Negro History Week began in the United States, formalized in 1926 through the vision of Dr. Carter G. Woodson. It was later expanded to Black History Month in the 1970s. However, in the 1950s, Black History celebrations had been introduced to Canadians by the well-travelled sleeping car porters.
One of them, (Judge) Stanley G. Grizzle, was the first host of the first event held at the African Canadian landmark – the British Methodist Church at 460 Shaw Street. It was organized by the women of the Canadian Negro Women's Association (CANEWA). It was geared to and attended by members of the Black community.
It was not until the 1978 formation of the Ontario Black History Society (OBHS) by Dr. Daniel G. Hill, Wilson O. Brooks, Joan Kazmarski, Donna Hill and Lorraine Hubbard, that the first 'open to all' celebration of February as Black History Month (BHM) took place. It was a year after the OBHS had been formed and after a successful petition to the City of Toronto in 1979. Rella Braithwaite, Paul Anderson and Charis Newton followed as Presidents of the OBHS. They annually petitioned the City of Toronto for the BHM proclamation. So, within the City of Toronto, Black History Month has been celebrated since 1979.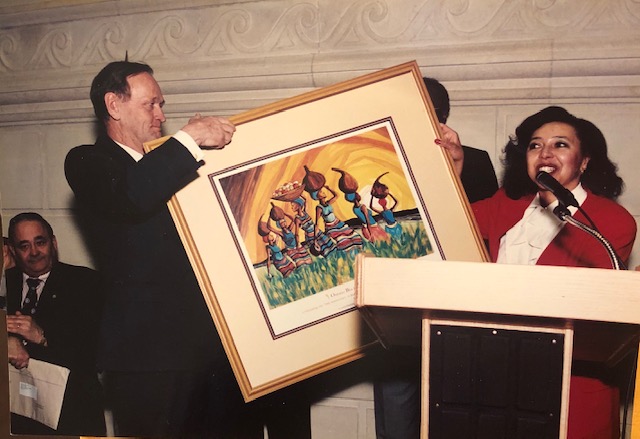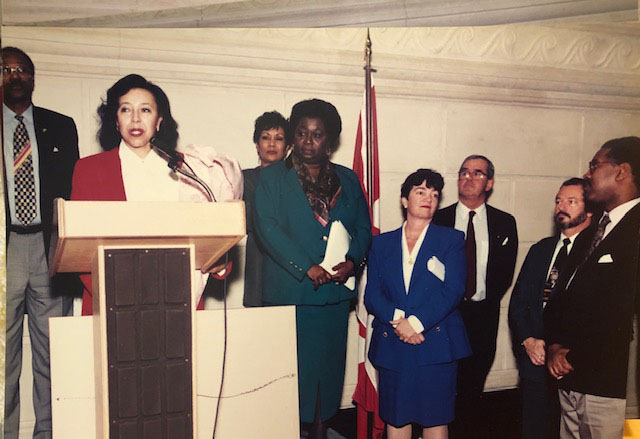 In 1993, soon after I had become the OBHS President and following an abrupt change of administration, I discovered, almost too late, that the OBHS had to request a BHM proclamation from the City of Toronto. Quickly, this was petitioned for, and while doing so, I requested that this be a permanent, annual commemoration. The celebration of February as Black History Month should not have been something so easily, possibly, lost.
I was able to get a provincial proclamation through our contact person within the Ministry, Daniel O'Brien. I then obtained provincial proclamations from each province. I then I contacted many Members of Parliament (MP) about the idea by letter.
However, at a fundraiser being held at Denham Jolly's home for Jean Augustine, in the presence of lawyer, Lloyd Perry, I introduced the concept of a national 'proclamation' with Jean Augustine who was then MP for Etobicoke Lakeshore and Parliamentary Secretary.
After we agreed change the proclamation to a 'declaration', Ms Augustine said she would bring it to Canada's Parliament. This was successfully passed in December 1995 and first celebrated in February 1996! In front of a capacity gathering, which included a bus full of supporters from Toronto, I was both honoured and thrilled to share the platform with the Prime Minister of Canada and the Black Caucus in Ottawa.
It is important for us to keep in mind that individuals can make a difference. In building upon an existing initiative, in fervently creating a broad community of interest, in reflecting my lived experience, my 'ask' to the federal government was well grounded and made it easy for acceptance. It is now the 25th anniversary of the declaration but there are more aspects of social change to be addressed.
Rosemary Sadlier, Order of Ontario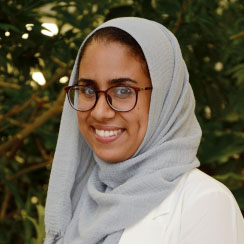 A message from Selsabil Rezig, CHFT President
In 1955, Martin Luther King Jr, stated "Our lives begin to end the day we become silent about things that matter."
Each Black History Month is an important opportunity to acknowledge, understand, and celebrate the impact of the African Diaspora culture.
From Harriet Tubman, who freed many enslaved people, to Katherine Johnson, the human-computer of NASA, to Barack Obama, the first black person elected to be the President of the United States. Black History Month allows us to appreciate the past and those that make today possible.
As for myself, I am truly honoured to be in a community where black Canadians are aspiring, successful, and fundamental in continuously contributing to a positive growth in society.
Selsabil Rezig
Metta Housing Co-operative
President, CHFT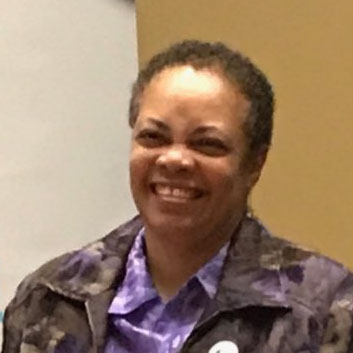 A message from Allison Chase, Second Vice-President, At-Large Member Ontario Council
Toronto has the largest Black population in Canada – over 400,000 people. Over the years many in the community have experienced great difficulty in finding suitable homes.
The development of co-op housing was of great benefit to many. Not only did people find affordable housing. They also found a community where they felt they belonged. Some took opportunities and were encouraged to develop leadership skills and went on to become leaders in the co-op sector. When we mentor our younger members, we ensure that there is a line of succession in place. It is win-win situation for co-op housing.
Allison Chase
Ramer's Wood Co-operative Homes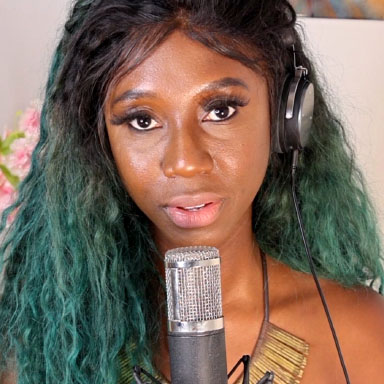 An exclusive performance by Domanique Grant in celebration of Black History Month
Atkinson Housing Co-op member Domanique Grant is a Toronto indie-pop singer/songwriter and public speaker. She was once the youngest president of two co-op housing organizations.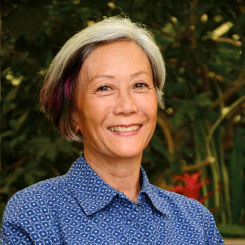 A message from Dawn Obokata, CHFT Board Member and Past CHFT President
Let's celebrate!
February gives us a few things to look forward to: the days slowly getting longer, Groundhog Day, Valentine's Day, and– Black History Month!
We won't be able to attend the annual brunch this year, but there are still many ways to celebrate the continuing contributions of our friends and neighbours of African descent. We recognize that not only do black lives matter, they "energy"! They contribute, activate, innovate, and transform. Let's all take some time to reflect on the past, and envision a richly diverse future.
Co-operatively,
Dawn Obokata
St. Nicholas Housing Co-operative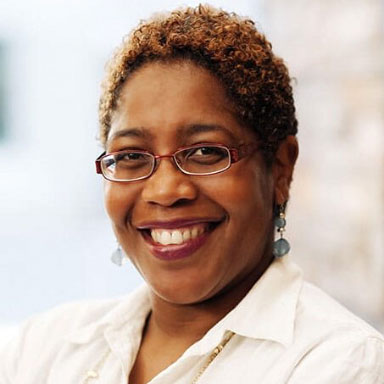 A message from Nicole Waldron, Past President, CHF Canada
Black history month is significant, yet we must be mindful that we don't just limit highlighting Black history in one month for it is our collective history. Let this month be a nudge to go find out more about the many people who have contributed to the fabric of our country and the world.
One of my hopes is that I'll see Black History included in our regular school curriculum. It's a time to increase our knowledge for our children and our community.
It's a time to explore and share what you learn. Let this Black History month be a reminder of how great we can be as a collective when we see, acknowledge and pay respect to all who have paved the way for us to be here.
Our co-op movement has over the years made it part of our mandate to be intentional in our diversity plan and to create inclusivity. We have ensured that the path has been paved for many to become leaders in our co-ops as employees and in our governance structure.
I am grateful for those who helped paved the way and broke the glass ceilings that provided me the opportunity to be the first Black President of the Board for CHF Canada and I am glad I am not the last.
I encourage every co-op to add a diversity plan as part of their strategic plan. You can start by getting a Black History poster and putting it up in your common space. Include information in your co-op newsletters and you can also find online social activities for children.
Many thanks to Rosemary Sadlier of the Ontario Black History Society and our first Black female Member of Parliament, Jean Augustine, for working to make this recognition of Black History in Canada.
Let us all remember this land was made for you and me.
Nicole Waldron
Past President, CHF Canada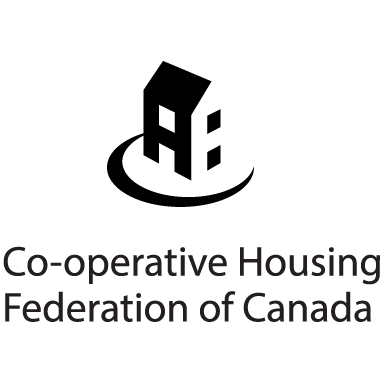 CHF Canada's statement on anti-black racism with Black Lives Matter statement video
Published December 7, 2020
How CHF Canada is working on combatting anti-Black racism to support the movement for black lives.