---
Ujamaa Co-op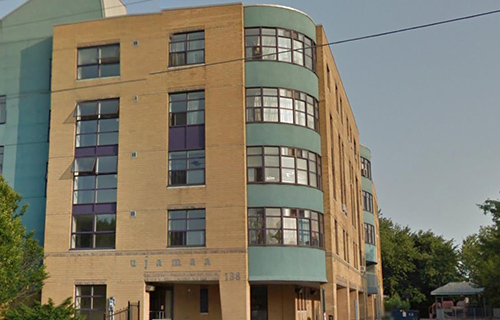 138 Bellamy Road North, Scarborough, ON, M1J 3N9
Contact Information
 416-439-4071
 416-439-4692
N/A
Unit information
One bedroom junior (2 units)  – $894.00
One bedroom regular (9 units) – $927.00
Two bedroom (27 units) – $1,158.00
Three bedroom (17 units) – $ 1,283.00
Four bedroom (1 unit) – $1,390.00
Other Information
Ujamaa Housing Co-operative is non-profit housing co-operative located in the heart of Scarborough, Ontario. The closest major intersection is Bellamy Road and Eglinton Avenue East. We have 56 affordable housing units. All housing charges include Rogers' cable and hydro.
We currently do not have any vacancies and our waiting list is close. If you are interested in applying for subsidy, please contact Housing Connections.
Administration: Municipal
Apply for subsidy through Social Housing Connections.