---
Lotus Co-op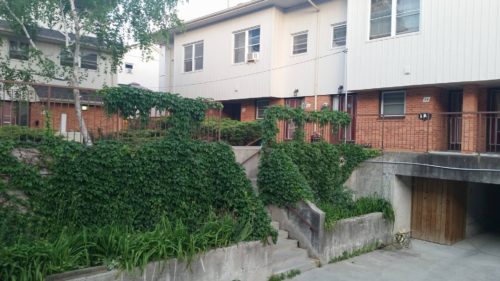 61 Lambertlodge Avenue, Toronto, ON, M6G 3Z1
Contact Information
 416-532-9271
 416-532-9193
N/A
Unit information
One Bedroom – $571.00  – $644.00/ mth
Two Bedroom – $787.00 – $862.00 / mth
Three Bedroom – $958.00 – $1,008.00 / mth
Four Bedroom – $1,053.00 / mth
Other Information
Lotus Co-op is located West of Christie Street and North of Dupont Street, on Lambertlodge Avenue.
It is approximately ten minutes walk, or three minutes by bus, from the Christie subway station, on the Bloor-Danforth line. Other bus routes close to the co-op are the Ossington bus to the Ossington Station, the Dupont bus to the Dupont or St. George Station or the Christie bus North to St. Clair West Station.
The neighbourhood has several parks, many supermarkets (Loblaws, Sobey's, Fiesta Farms), the Davenport branch of the Toronto Public Library, schools (St. Bruno's, McMurrich, Essex/Shaw, George Brown campus) and restaurants on both Dupont and Davenport.
Not covered parking $35.00, covered parking $40.00. Cable is included and utilities are not included. All waiting lists are closed.
Administration: Federal
No subsidy is available.