---
Lakeshore Gardens Co-op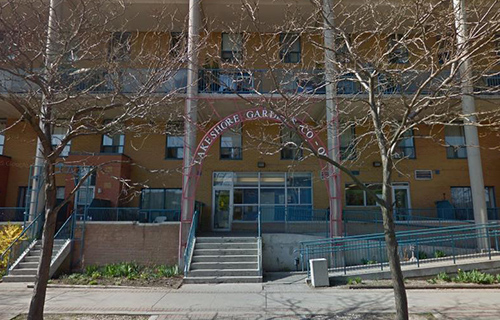 10 Garnett Janes Rd., #1300, Etobicoke, ON, M8V 3Z2
Contact information
assistant.lakeshore@rogers.com
416-255-6660
 416-255-7397
N/A
Unit information
One Bedroom Apt. – $820.00 – $837.00 / mth
Two Bedroom Apt & Accessible – $980.00 – $1,078.00 / mth
Two Bedroom Townhouse – $1,062.00 – $1,086.00 / mth
Three Bedroom Apt. Closed – $1,185.00 / mth
Three Bedroom Townhouse Closed – $1,236.00 / mth
Four Bedroom Townhouse Closed – $1,356.00 / mth
Other Information
Lakeshore Gardens is Municipally Funded Co-op administered by staff hired by the Board of Directors. It is comprised of seniors, families and singles and has six one bedroom accessible and six one bedroom adaptable units. The co-op also has a two bedroom, one level accessible townhouse. Current Market Prices include utilities and one cable outlet included. Parking is an extra $ 35· The co-op is in a residential neighbourhood within walking distance to shopping and to the TIC.
Administration: Municipal
Apply for subsidy through Social Housing Connections.