---
Dentonia Park Co-op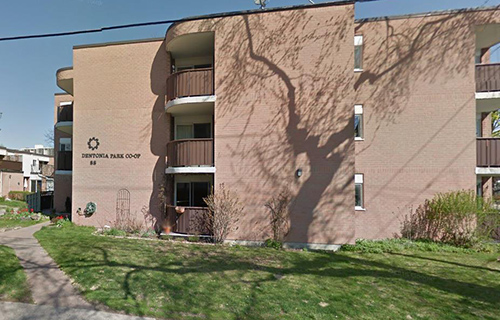 11- 88 Coleman Avenue, Toronto, ON, M4C 1P7
Contact information
416-694-4646
 416-694-7903
N/A
Unit information
Bachelor – $590.00.00 / mth + hydro
One Bedroom Apt. – $759.00.00 / mth + hydro
One Bedroom w/Carport – $751.00.00 & $760.00 / mth + hydro & gas
Two Bedroom Townhouse – $1,001.00.00 / mth + hydro & gas
Three Bedroom Townhouse – $1,166.00.00 / mth + hydro & gas
Four Bedroom Townhouse – $1,313.00.00 / mth + hydro & gas
Other Information
Dentonia Park Co-op is located in a very quiet and peaceful neighbourhood and is a great senior & family-oriented co-op. A short walk to schools, many quaint shops along the Danforth, banks, restaurants, Victoria Park & Main Street subway stations, T.T.C. and beautiful parks. The waiting list is closed.
Administration: Federal
No subsidy is available.