---
Church Isabella Co-op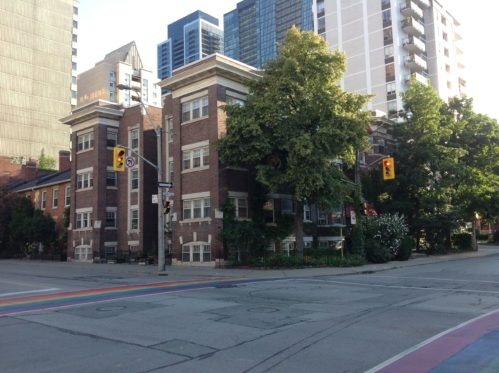 72 Isabella Street, Toronto, ON, M4Y 1N4
Contact Information
 416-964-2311
 416-964-1522
N/A
Unit information
One Bedroom – $566.00, $671.00, $693.00,$735.00, $762.00, $878.00, $868.00, $883.00 / mth
Two Bedroom – $847.00, $917.00, $939.00, $948.00, $986.00,  $988.00, $1,117.00 / mth
Three Bedroom – $1,396.00 / mth
Other Information
Incorporated in May 1977, Church-Isabella Residents Co-operative is a not-for-profit housing provider located in the center of downtown Toronto near the Yonge and Bloor Street intersection.  It has three buildings at two sites:  72 Isabella Street with 18 apartment units in a three story walk-up (occupied July 1980); 589 – 595 Church Street with 12 units in 6 stacked town homes (occupied July 1981); and 56 Wellesley Street East with 18 apartment units in a complex building form which looks like a four storey apartment building (occupied Aug. 1985).  It is staffed by a part-time bookkeeper and part-time coordinator and mostly is managed and operated by member volunteers.  Only the 56 Wellesley East units are still covered by a CMHC agreement which requires that 25% of the units be rent geared to income. The cable is included.
Administration: Federal
No subsidy is available.