---
CHFT Diversity Scholarship 2017
The annual CHFT Scholarship Presentation and fundraising event took place on Wednesday, June 15, 2017. This year CHFT celebrated 28 new scholarship winners. Since 2004, CHFT, our generous sponsors, and partners have awarded $1.6 million in scholarships. With our partners, we have awarded an additional $200,000 to over 50 winners in other parts of Canada.
The winners were selected into categories; Success Becomes You, Dexter Johnston, Penny Bethke, Randy Padmore, Diversity and Mark Goldblatt.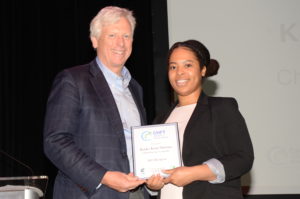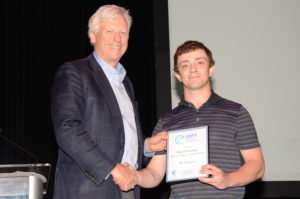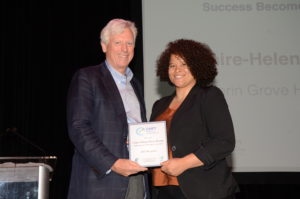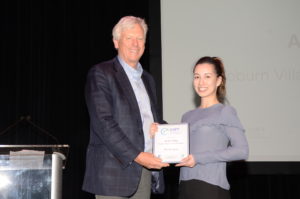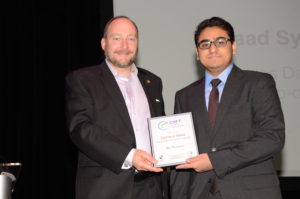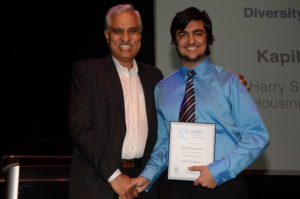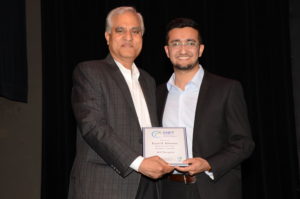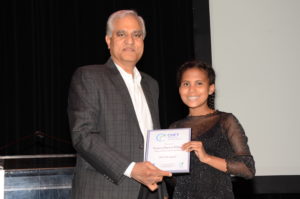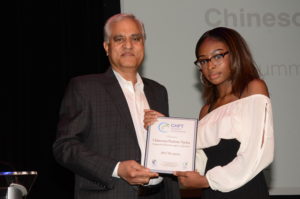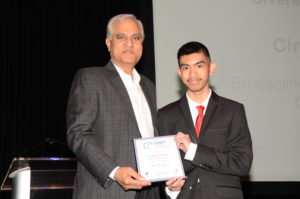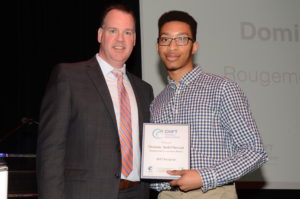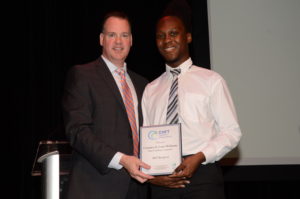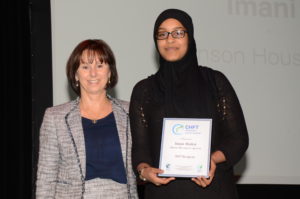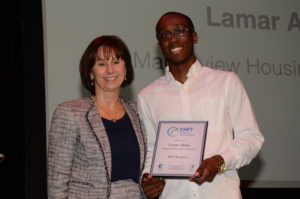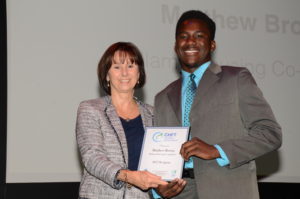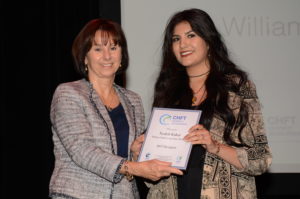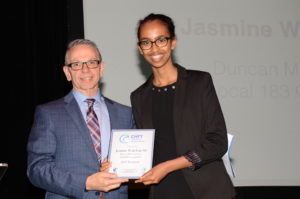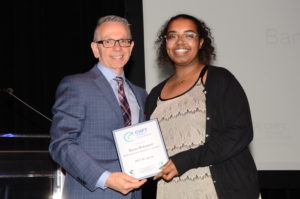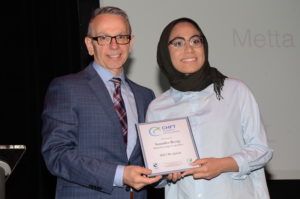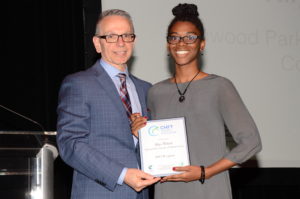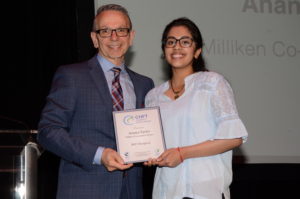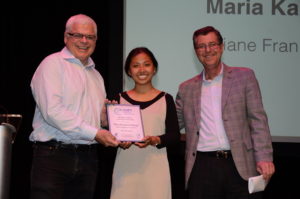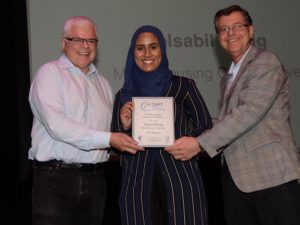 Here is some information on this year's recipients:
Ishaq Ali
Ishaq is from the Atkinson Housing Co-operative and will be graduating from Central Toronto Academy. Over the past year he has volunteered through COSTI Immigrant Services as a translator and guide for Syrian refugees. At his co-op he serves on the By-law Committee, Ishaq will study life sciences at the University of Toronto.
Saad Syed Akhtar
Saad is graduating from Aurora High School, where he is an executive of the DECA chapter. He has been volunteering for three years at a non-profit called Community & Home Assistance to Seniors. He assists at reception with data entry and filing of clients' documents. Saad has also helped with religious instruction at the Newmarket Islamic Centre. He will enter the University of Waterloo's accounting and financial management program in the fall.
Rahaf Al-Enzy
At Marc Garneau Collegiate Institute, Rahaf has been a member of the Art Council and its treasurer for two years. The council designed murals with meaning: one to support LGBTQ students and another to encourage students to help the environment. Rahaf planned its biggest event last year, Doodle Fest. She also joined the school's Spirit Committee and volunteered at a clothing bank. She plans to attend the University of Toronto to begin a co-op management program.
Kapil Bilimoria
In his graduating year at Turner Fenton Secondary School in Brampton, Kapil was a creative writer and director of the annual CultureFest. He was also a chair for the school's leadership conference, overseeing the volunteers and logistics. In 2015 he was chosen for the SHAD program at Carleton University, where exceptional high school students work to solve an issue in society. Kapil is going into the second year of a computer science program at the University of Waterloo
Krish H Bilimoria
Krish will complete his bachelor of health sciences honours,  specializing in Global Health in the coming year at McMaster University. He has been an executive member of the Hindu Students' Association, which organizes religious events and does outreach to the broader McMaster community about Hindu festivals, rituals, and philosophy. Krish has also been involved with McMaster's TEDx conferences, last year as coordinator of finances and partnerships and this year as a co-curator, co-ordinating the volunteer team.
Yaritza Martin-Halsall
Yaritza is graduating from Humberside Collegiate Institute, where she was the photographer for the 2017 yearbook. She mentors girls in the Youth In-School Mentoring Program of Big Brothers Big Sisters. She has been active for several years with the New Dawn Just for Kids Day Camp, as a summer volunteer and more recently as the head team leader. Yaritza will enter the justice studies program at the University of Guelph-Humber this fall.
Chinesom Paulette Njoku
In her final year at Bishop Allen Academy, Chinesom co-founded the Black Heritage Club to raise awareness of issues surrounding people of colour. The club plans educational and fundraising activities, including Black History Month events. She volunteered at the Etobicoke General Hospital in a variety of roles, from reception to delivering gifts to patients. This fall Chinesom will begin the collaborative nursing degree program, which includes two years at Seneca College followed by two years at York University.
Cirwen Yasay
Cirwen is graduating from Jarvis Collegiate Institute. For the past four years he has volunteered as a medical receptionist at a local doctor's office. At his co-op, where he was born and raised, he has been helping seniors on his own initiative since he was about 10: picking up groceries or medicines, installing or troubleshooting technology, and keeping people company at home or when they go out. Cirwen will study biomedical science at York University and plans to become a doctor.
2017 CHFT The Success Becomes You Scholarship Recipients
Kaylee Irene Downey
After achieving her bachelor's degree at the University of Ottawa, Kaylee is completing a social service worker diploma at Seneca College. Her placement work has been with Community Living Toronto, supporting adults and children with complex needs. At the Jane/Finch Community and Family Centre, Kaylee has been co-leading a research project to evaluate the effectiveness of community programs aimed at young women of colour. She will begin a master of social work program at the University of Toronto this fall.
David Dvoskine
While attending Burnhamthorpe Collegiate Institute, David took part in the PACT Build Program, where students learn construction-related skills and use them in community outreach projects. He is an examiner with the Lifesaving Society and is tutoring high school students in math and sciences at For Youth Initiative. David has been studying practical nursing at Centennial College and hopes to become a field medic or nursing officer in the armed forces.
Claire-Helene Heese-Boutin
Claire-Helene served as treasurer on the board of her co-op for three years. Currently she is co-vice-chair of the Parkdale Neighbourhood Land Trust, working to increase the amount of affordable housing and co-operative housing in Parkdale. She also volunteers with a committee working with credit unions to foster accessible financial services for Parkdale residents. Claire-Helene will be completing a master's degree in environmental studies, with a specialization in ecological economics, at York University.
Aysha Sidiq
Aysha has completed an honours bachelor of science degree at the University of Toronto Scarborough Campus. She volunteered at the Women's and Trans Centre there. At her co-op she served on the board of directors for four years, until this past winter. In addition to her studies and her commitments at Woburn Village, she ran for City Council in the 2014 municipal elections. Aysha now plans to attend Centennial College for community development, social work and event management.
Jennifer Marie O'Connor
Jennifer is from Windmill Line Co-op and is completing the professional master of public administration program at Queen's University. She will begin a graduate program in social and political thought at York University this fall. Jennifer is a chief shop steward with the International Association of Machinists and Aerospace Workers, a role that includes negotiating collective agreements. She has volunteered at the Toronto Rape Crisis Centre and was a director on the board of Pink Triangle Press for eight years.
2017 CHFT Dexter Johnson Scholarship Recipients
Mahib Chowdhury
Mahib is from Atkinson Housing Co-operative. While attending Bloor Collegiate Institute, Mahib was also involved in many community activities. He helped the ball hockey coach at Scadding Court Community Centre and mentored younger children in the Leading to Reading Program at Sanderson Library. Since 2014 Mahib has been a community animator for the Alexandra Park/Atkinson Co-op community, engaging residents in the revitalization process. He is particularly focused on increasing the involvement of youth. He will study life sciences at the University of Toronto.
Shafi Rahman
Shafi is graduating from Harbord Collegiate Institute, where he belongs to several clubs. Throughout high school he has volunteered at Scadding Court Community Centre; he took the Leader-in-Training program there one summer and helped out at the day camp. He is still a key volunteer in the after-school Computer Club, teaching technological skills and helping kids improve in math, and also provides inpatient support at Toronto Western Hospital. Shafi will study biology at Ryerson University.
Dominic Andel Stewart
Dominic is graduating from St. Mary Catholic Secondary School in Pickering, where he has been a core leader, responsible for initiatives promoting social justice in Canada and abroad, mental health, and other causes. At Holy Redeemer Catholic Church he is a team leader in the youth ministry program and a choir member. This fall Dominic will begin the collaborative nursing degree program, which includes two years at Centennial College followed by two years at Ryerson University.
Courtney St. Louis-McBurnie
At St. Patrick Catholic Secondary School, Courtney has had       many responsibilities, including serving as a house prefect, a representative on the Student Council, and president of the Black History Month Committee. He has also been active in events and festivals at his co-op, and he designed and built large-scale costumes for the Toronto Caribbean Carnival for six years. This fall Courtney begins studying media communications at Humber College.
2017 CHFT Randy Padmore Scholarship Recipients
Imani Abukar
Imani is a graduate of Harbord Collegiate Institute. Throughout high school she tutored at the Alexandra Park Community Centre and volunteered at the YMCA. At the St. Alban's Boys & Girls Club she was a basketball coach and helped to draw more young women into the program. Imani has continued to be active in basketball at Seneca College, where she is entering the second year of the honours bachelor of therapeutic recreation program.
Lamar Adams
In the St. Lawrence Neighbourhood, Lamar has been involved in many community activities. He helped at the community centre's breakfast club and then joined the Esplanade Youth Movement, where he is an outreach coordinator, helping to build positive relationships between youth and the police. Lamar graduated from Central Technical Institute and will go into the second year of the building renovation technology program at George Brown College in the fall.
Matthew Brown
Matthew is graduating from Cedarbrae Collegiate Institute. Last summer he was a counsellor at the Olympian Martial Arts Summer Camp, teaching taekwondo. He has been an after-school tutor, helping younger children with math and reading. At his co-op, he has been serving on the On-Call Committee for more than two years, with responsibility for the building's security. Matthew will begin studying engineering at the University of Ontario in the fall.
Nealob Kakar
At Dunbarton High School, Nealob was closely involved in numerous initiatives promoting social justice, including educational and fundraising events and Students Together Opposing Prejudice. She served as president of the Diversity Leadership Council, the Muslim Students Association and the Gay Straight Alliance. She also volunteered in many ways in her community and earned a City of Pickering Community Service Award. Nealob is attending McMaster University, where she will enter the second year of a social sciences program.
2017 CHFT Mark Goldblatt Scholarship Recipients
Maria Karmela Salanga
Maria Karmela Salanga was a 2012 CHFT Diversity Scholarship recipient. She graduated with honours from the Kinesiology program at University of Toronto in June 2016. She will be attending OISE's Master of Teaching program this September in the primary/junior concentration. She is a director on the CHFT Charitable Fund Board of Directors.
Selsabil Rezig
Selsabil Rezig is a 2015 CHFT Diversity Scholarship recipient. She attends Ryerson University for Biomedical Science and plans to attend medical school. Selsabil is on the Board of Directors at her co-op.
2017 CHFT Penny Bethke Scholarship Recipients
Jasmine Wahelsan Ali
Throughout her years at Don Mills Collegiate Institute, Jasmine has been the leader of the Voice Team, which handles morning announcements. She writes the scripts and includes information about current events as well as school activities. She has also been a member of the school's highly successful Debate Club, serving as president in the past year. At her co-op, Jasmine has set up a tutoring service for the children. She will study commerce at the University of Toronto.
Razan Mohamed
Razan took part in a wide range of co-curricular activities at Dr. Norman Bethune Collegiate Institute and received the school's environmental action award in her junior year. In the fall of 2016, the arrival of Syrian refugees prompted her to start a homework club and a donation drive to help them; she also served as a translator. Razan volunteered at St. John's Rehab Hospital, delivering meals and later staffing the gift shop. She will attend Western University to study health sciences.
Soundos Rezig
In her senior year, Soundos has been president of the Student Council of Harbord Collegiate Institute, in its 125th anniversary year. She successfully led many of the traditional school events and started some new ones, such as a dragon boat team. Soundos was a mealtime assistant at Bridgepoint Sinai Health System for more than two years, a commitment that led to her career choice. She will study biomedical sciences at Ryerson University and plans to become a nurse or dentist.
Aliya Whyte
At Richview Collegiate Institute, Aliya was part of the leadership team for the school's week-long orientation camp for incoming grade 9 students. She was responsible for a variety of dance activities. Throughout high school she has been a French tutor at the Downsview Youth Covenant's homework club, where she set up the support program for French Immersion students in grades K-8. Aliya will attend the University of Ottawa to study health sciences.
Ananya Xavier
Ananya is graduating from Mary Ward Catholic Secondary School. For the past three years she has been a member of Best Buddies, a program where student mentors are paired with students who have intellectual and developmental disabilities. She has taken part as well in the Newcomers' Youth Leadership Development program at the YMCA, and she volunteers for Parks Canada, promoting the significance of Canada's natural and cultural heritage. Ananya will study kinesiology at the University of Waterloo.